If it's one thing I like it is technology. I have a hard time seeing what's new for eLaunchers and not having it. Anyone that knows me is fully aware of this bit of news. If only I had an extra $9000 lying around gathering dust.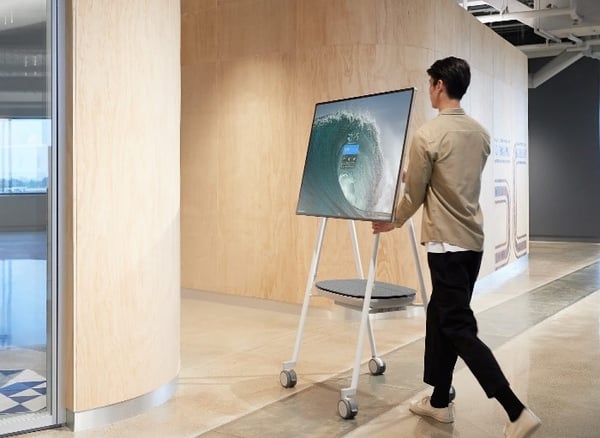 In all seriousness though, as if there is a shortage of computer hardware of every shape and size, the latest out of Microsoft is their updated Surface called the Microsoft Surface Hub 2S. What are they thinking?
It's so big it needs wheels, you really don't want to ask how much the external battery costs, but it snaps into focus the efforts Microsoft's hardware team is making with enterprise customers.
I think it's safe to presume that many of the features added to the Surface Hub in this iteration will have come from user feedback. It's notable that the biggest change in the Hub 2S is its portability. Through a partnership with Steelcase a mobile easel is available to wheel the touchable slab around the office, and for even more options you can add a battery pack from APC to keep everything running while you whizz around the office.
You shouldn't think that the goal here is to sell ridiculous numbers of the Hub 2S - although I doubt Microsoft would turn down sales. As I see it, the goal is to use this as a central (sic) Hub in a business and ensure that Microsoft's local- and cloud-based software is the connective digital tissue.
Ewan Spence -Senior Contributor
As per the experts, the Surface Hub 2S is a 50-inch screen with 2840x2560 resolution. Imagine getting your latest Infusionsoft or ClickFunnels workflows on the front of this. The storage is 128GB, and hosts a UHD 620 graphics chipset. Powered by Intel's eighth generation Core i5, and backed up with an 8GB of RAM, this baby hums at a $9000 price tag. Let's say it all together, $9000. I'm told the "teams" of designers might be collaborative on this piece of hardware and software, as its Windows 10 based devices have connectivity.
It's obviously built for enterprise applications. eLaunchers would love to have at least one, but unfortunately, I'll have to pass on it for now. Maybe I can find one refurbished or used down the road.