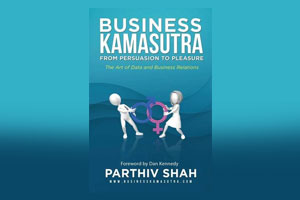 Business, Sex, and Infusionsoft
Sex is one of the most written and read about subjects on this planet. There is nothing more intimate between two humans than sex. The original Kamasutra was written by an Indian sage thousands of years ago and was most likely the first book ever written on the subject of relationships. My Business Kamasutra book is a little different. We can learn a lot about the relationship between businesses and consumers once we understand the parallels between business and sex.
Here are the basics:
Before sex: segmentation, approach, persuasion, shock & awe, consent, foreplay
During sex: emotions, contact, transfer of assets
After sex: get pregnant, have the baby, nurture the relationship, watch the kids grow
The Problem
You can have sex everyday but if you are only sleeping with one person, you can only get one person pregnant at a time. Getting a person pregnant and having a baby with them is akin to having a client and doing a project with them. So what do you do if you want multiple babies? Well, you have to get a couple of people pregnant a day, everyday. That is how you would achieve your goal of getting more clients to your company.
Now the real question is...how do you go about doing that?
InfusionSoft to the Rescue
InfusionSoft is a system that allows for you to manage, standardize, and automate the persuasion, approach, and consent (pre-sex) aspects of your organization. If you own a business and your goal is to have as many transactions as you possibly can each day, then InfusionSoft is a done-for-you program that provides a solution to your "dating" issue. If you are interested in pursuing this avenue of implementation, feel free to email me at pshah@elaunchers.com or call my office at 301-760-3953.
My 5-Step Formula
This formula contains the steps you need to ensure you can develop a healthy relationship with all of your prospects and clients.
Step 1: Create a pick-up line. This should be a free offer (ex. a free report, free book, free consultation, free gift, etc.). It can be anything you are willing to give away. In this day and age, I highly suggest that you make it web-accessible. This will make it more convenient for most prospects to actually enjoy what you are giving them.
Step 2: Come up with an extension for the gift. This is not your shock & awe but a "bait gift." It should be an enhanced version of the original gift if they give you some extra information. Examples include a printed copy of the free report with a companion CD, an audio interview, a personalized gift certificate, and so on.
Step 3: Create an insane initial purchase offer. This should be something that they really really really need. It should be a no brainer. You have never offered this before and they would be crazy not to buy from you immediately.
Step 4: Back it with an absolutely outrageous guarantee that takes away ALL the risks for them. You can offer a do-over guarantee if there is no satisfaction, a money back guarantee, or even a more than your money back guarantee.
Step 5: Now write a letter/email making this insane offer and drive them to the specific landing page you want. In the letter, explain exactly what you are offering, what you intend to deliver, and what you are willing to in order to start that business relationship
The Formula in Action
Let me give you a little example of what the 5-step formula would look like in action. My letter might look something like this:
"For the initial purchase offer, an absolute no brainer, here is the deal I am offering: For $5,999 I will give you a half day of consult, complete construction of the package described below, and design and develop everything I need to deploy this program for you. We will also create the initial landing page, second landing page, thank you page, and a sequence of emails to drive the respondents to a call-to-action page. You also have my $6,000 guarantee. If this program does not generate at least $6,000 in revenue 120 days post-deployment, then I invite you to ask me for all of you money back. In addition, I will make a $250 donation to our mutually favored charity. Unless of course, you decide that you want to give me another 120 days to try again."
There may probably been some fine print that you will want to throw in under the offer but take the time to reassure them that you are trying to eliminate their risk. You want the relationship to succeed, you just have to prove it to them.
If you are more interested in the world of parallels between business and sex then take a look at my book, Business Kamasutra. You can call my office (301-760-3953) for a copy or order it on Amazon.