Here is the straight talk about Infusionsoft. Infusionsoft is the system of choice at eLaunchers. That's what we are trained on, that's what we are staffed for and that's the playground where we play. Not only has Infusionsoft given us a powerful platform to build our system, it has also given us the mindset, .the choreography and the direction to grow a business.
If your company has over one million dollars in revenue, consider joining Elite Forum a special business growth mastermind where Infusionsoft leadership share how they grew the company from under $100K to over $100M.
This is the Elite Forum EVEREST Diagram for eLaunchers.com. We built our first Everest diagram in 2014 for eLaunchers.com. When we talk on the phone, I will go over the Elite Forum EVEREST thought process and show you how you can PLAN your actions so you can trigger success following this proven system.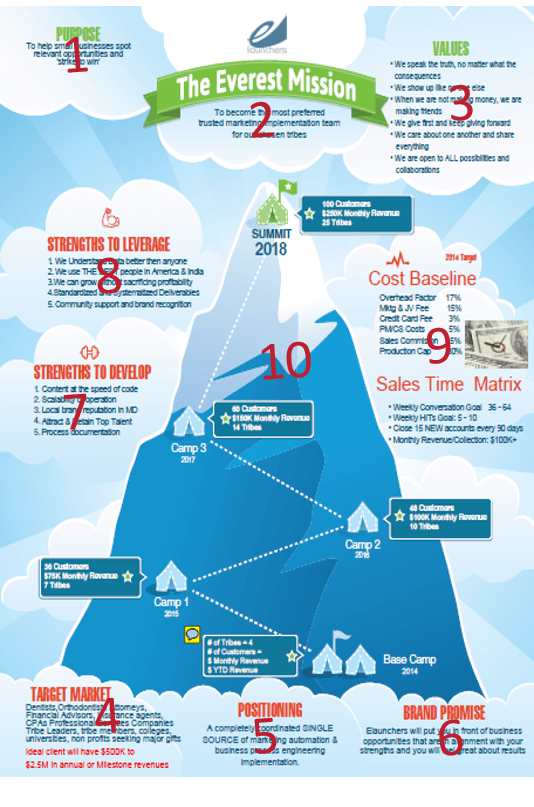 If you already have Infusionsoft, CONGRATULATIONS, you already have the core infrastructure where we can build your growth engine. We will audit your current installation of Infusionsoft, and identify what we have and what we need.
If you don't have Infusionsoft, we will help you acquire it. If you are using another marketing automation system or if you have multiple systems to do different things, we will help you migrate from any system into Infusionsoft.
Many people ask me: "Why Infusionsoft?" and I think I have the perfect answer. I actually use Hubspot, Infusionsoft AND Active Campaign and I am certified partner for all three of them. Prior to embracing Infusionsoft in 2009 I was a system agnostic CRM implementer. I would work with anything the client asked. I have experience working on MS Dynamics, Outlook BCM, Goldmine, Act, Salesforce, Zoho and Netsuite to name a few. Basically they all function the same way. At the end of the day, a CRM is a CRM is a CRM. So, what's so hot about Infusionsoft? It's not even the market leader in the CRM space.
Here's what I fell in love with: It has a SINGLE DATABASE with multi-faceted functionalities like salesforce automation, marketing automation, email marketing and ecommerce. An OPEN API makes it easy to integrate with ex-Infusionsoft applications for seamless synchronization of data. There is a thriving ecosystem of partners and app developers who have built Infusionsoft add-on applications so you can 'plug & play' their tools as needed.
Everything in the Infusionsoft ecosystem has a monthly subscription. This gives you access to all the tools and the customer service/technical support on an ongoing basis.
Infusionsoft is powerful, therefore complicated. Infusionsoft is flexible and it provides means to customize your marketing campaigns to suit the exact nuances of your business. This flexibility along with the power makes things even more complicated. You need to know what you want, you need to know what is possible, you need to know how to do it and you need to know when it is working or not working. It's not as easy as driving a BMW, but it is not as complicated as flying a plane.