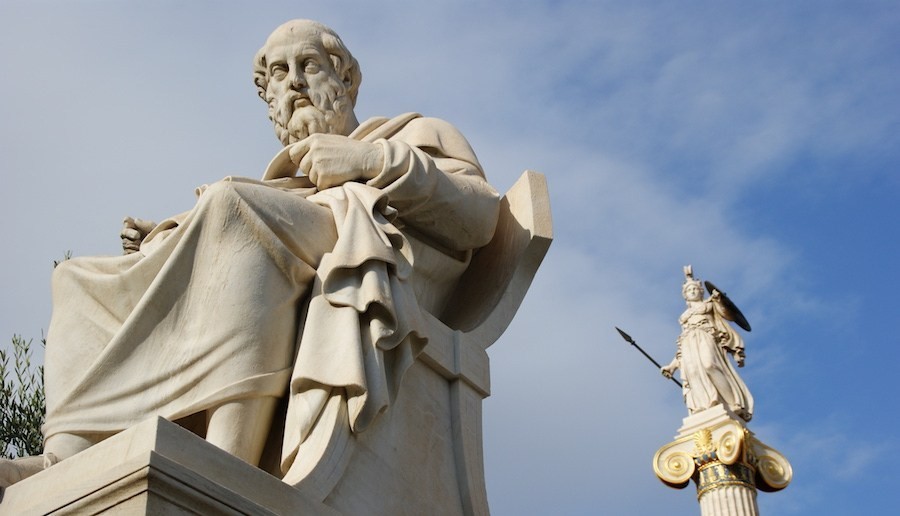 A lot of people today are considered the Masters of Modern Marketing. Like Seth Godin, Gary Venerchuk, Neil Patel for example. Granted, they are pretty sharp on their game. However, when it comes to direct response, today's Master is Dan Kennedy as far as I am concerned.
I am convinced that the teachings of Kennedy's is the best out there. But it wasn't always that way. Guys like Halbert, Makepeace, Ogilvy, Caples, Stone, Levitt and others are in the same degree of influence and foundation.
But Plato is considered the world's first marketer, at least according to CloudPeeps. He was obviously an early marketer for the fact that he influenced and attracted students to his Athens Academy. They studied all matters of philosophy, but also politics, something David Ogilvy would not approve of. You'll see more about it in a moment.


Scientific Advertising
I recently read a book by Claud Hopkins, "Scientific Advertising." Hopkins was born in 1866 and lived until 1932. He was an early advertising influencer of the last century. A pioneer in his day, Hopkins had a particular slant on advertising (remember, marketing is a relatively modern term) that was less about image and most about messaging. That's the opposite of what we know about the stories of Madison Avenue of the 1950-60's and 70's. Here's an excerpt from the archives of history to give you a better flavor.

Claud C. Hopkins was one of the great advertising pioneers. He believed advertising existed only to sell something and should be measured and justified by the results it produced.
He worked for various advertisers, including Bissell Carpet Sweeper Company, Swift & Company, and Dr. Shoop's patent medicine company. According to David Ogilvy, in 1907, at the age of 41, Hopkins was hired by Albert Lasker, owner of Lord & Thomas advertising, at a salary of $185,000 a year.[1] Hopkins insisted copywriters research their clients' products and produce "reason-why" copy. He believed that a good product and the atmosphere around it was often its own best salesperson, and, as such, he was a great believer in sampling.
To track the results of his advertising, he used key-coded coupons and then tested headlines, offers, and propositions against one another. He used the analysis of these measurements to improve his ad results, driving responses and the cost effectiveness of his clients' advertising spend.
Hopkins is one of the fathers of modern-day direct marketing. While working for the Bissell Carpet Sweeper Company, Hopkins sent out five thousand letters recommending carpet sweepers as Christmas presents - one thousand people sent in orders. He also convinced Bissell manufacturers to offer more variety of carpet sweepers, such as making them with twelve different types of wood. Following these changes, Bissell sold two hundred fifty thousand in three weeks.[2]
His book Scientific Advertising was published in 1923, following his retirement from Lord & Thomas, where he finished his career as president and chairman. This book was followed, in 1927, by his autobiographical work My Life in Advertising. He died in 1932. Hopkins has been credited with popularizing tooth brushing, as a result of his campaigns for Pepsodent.
Hopkins was much more interested in direct marketing than branding advertising. He believed advertising was more about scientific results than image.
And that's the clarity that Hopkins revealed. With his disdain for the advertising of the day he believed that well-written copy, written as briefly as possible (to save on ad space costs) and to only add images if they would help with the messaging. The image above is testament to his ability to create direct response advertising. He was an avid student and believer in direct response and direct mail, knowing they had the ability to drive sales.


Interesting Enough
Scientific Advertising is a book written by Claude C Hopkins in 1923 and is cited by many advertising and marketing personalities (such as David Ogilvy, Gary Halbert, and Jay Abraham) as a "must-read" book.
According to Paul Feldwick, it has sold over eight million copies.[1] David Ogilvy wrote that "Nobody should be allowed to have anything to do with advertising until he has read this book seven times. It changed the course of my life."
Ogilvy – Secret Intelligence
Guys like David Ogilvy are praised a lot for his ability to get things done. Originally from Britain, Ogilvy came to America after World War II, but didn't make it to Madison Avenue until years later. He was an avid student in the study of human behavior, and that's what gave him the ability to connect his advertising and marketing projects to attract ideal customers.
He did however, during the war work in Washington D.C. but got his wish to return to England until the end of the war. He served as secret intelligence. It is speculated that Eisenhower wrote Psychological Warfare Board based on his work. Ogilvy also did a stint in Canada before returning to England.
Here's some of his better-known quotes to give you an idea how he thought.
"The consumer isn't a moron. She is your wife."
"A good advertisement is one which sells the product without drawing attention to itself."
"It takes a big idea to attract the attention of the consumers and get them to buy your product. Unless your advertising contains a big idea, it will pass like a ship in the night. I doubt if more than 1 campaign in 100 contains a big idea."
"Political advertising to be stopped. It's the only really dishonest kind of advertising that's left. It's totally dishonest."
It's this writer's opinion that all these and other quotes not mentioned here stuck in the advertising and marketing industries, except the last one. Oh, if only someone had listened way back then.
The Gary Halbert Letters
Gary Halbert spent a little time in the slammer in 1984 for fraud. It seems that this Godfather of Copy liked to collect money for work he never finished (or ever started) and was not delivered.
But that didn't make him a bad copywriter. In fact, he began writing the Boron Letter – the name of the prison he affectionally called "Club Fed"." The Boron Letter became the catalyst for the Gary Halbert Letter(s) while still incarcerated.

Here is an excerpt from one of the letters Halbert's son crafted in his father's memory.
Dear Friend and Subscriber,
On September 1st 1986 The Gary Halbert Letter was born.
It would mark the beginning of something so profound it would forever change the lives of people all around the world.
Gary Halbert had just been released from Boron Federal prison camp... "Club Fed."
It was one of the best things that ever happened to our father.
A dynamic person like Gary Halbert doesn't fare well in captivity.
So why was it so good?
Because a pentup person can only think of all the things they will do once they are finally free.
The time at Boron gave Gary ten months to come up with a master plan to take over the world.
And by his definition that is exactly what he did.
Dan Kennedy
No B.S. Inner Circle is a membership community of entrepreneurs and business owners growing their businesses with Magnetic Marketing®. Founded by marketing legend Dan Kennedy in 1993, No B.S. has helped hundreds of thousands of businesses attract new customers that pay, stay, and refer. No B.S. Members hail from 50 US states and 67 countries on 6 continents.
What can I say about the man that has his own planet named after him? A master of direct response with a barrel of best-selling books to his credit, it's a rare day when making money. An avid horse lover, he's either racing, training, or brushing one of his horses, and often riding. But work is what he does, writing and speaking. A voracious researcher, Dan spends hour after hour reading newspapers, magazines, and just about anything printed on paper.
Dan does not have a smartphone, even a dumb phone. He's off the social media grid, writes no blog, you won't find anything he's produced with his own genius. Often copied, never equaled.
As the Founder of No B.S., Kennedy is the Godfather of Direct Mail. Although others may have sent out more mail, it is hard to quantify if anyone has made more money from it than he and his clients. Dan coaches' private clients who travel to him several times a year.
If you wish to learn more about Dan Kennedy, become a member of the No B.S. Inner Circle and join Planet Dan either as a Gold, Diamond or Peak Performers member. If you are not a member, what is holding you back?