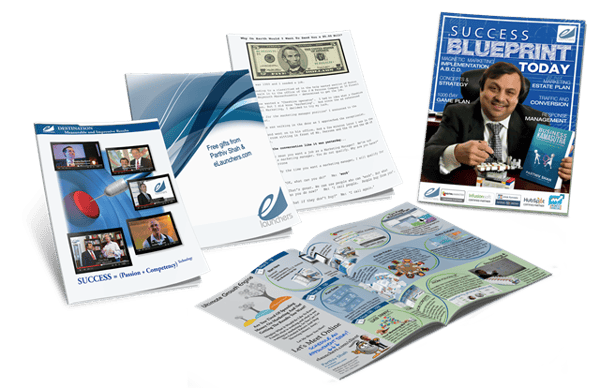 Dan is famous for teaching us that, "The money is in the list… You want to be in an 'Income At Will' position…
You need to build an iron fence around your herd…. You must magnetically attract the right people to you…"
So how do you do all of that?
At the 2014 GKIC Superconference Dan highlighted my shock and awe work for almost 20 minutes. He also made fun of me at least 3 times, not that I'm tracking that. I especially liked when he said that I wear a Velcro suit, and that if you get within 5 feet of me I will stick to you like Velcro and you won't be able to shake me off of you. Are you sticking to your prospects and clients like that?
I've been fortunate enough to have done work for some of the top names in this business, folks who have been held up by Dan Kennedy as shining examples of wealth attraction.
Results like theirs are all within your reach, just keep reading...
What's the common element (a la napoleon hill) all those uber-successful serial entrepreneurs share (other than Elaunchers)?
What attracts all their wealth?
What puts them in the toll booth position, builds an iron fence around their herd, and allows them to create income at will?
Their Wealth Attraction Shock & Awe Box Marketing system.
Bear with me; I know you have seen shock and awe a million times.
I'm not talking about regular shock and awe box marketing, I'm talking about wealth attraction shock and awe.
I know you probably have a traditional shock and awe box, and it probably works just fine for you. I know you know all of this, backwards and forwards, but have you implemented all of it? Really? You know if you implemented 100% of what you knew you would be at the level you deserve already.
Perhaps you haven't made enough time.
Maybe you have learned so much you don't remember all of it. Let's face it, you have probably forgotten more about marketing and wealth attraction than most business owners will ever know. It's still not enough.
So let's talk about wealth attraction shock and awe box marketing that has completely transformed entire businesses, that has catapulted entrepreneurs into the stratosphere.
What's the difference between regular, seen it before shock and awe and wealth attraction shock and awe?
Wealth attraction shock and awe feeds into a marketing surgical strike system that hits your ideal prospect with laser precision like nothing you have ever seen before for unprecedented results.
Conversion, upsells, referrals, retention, and dramatically increased lifetime value of a customer beyond belief.
Here is the formula for Shock & Awe as executed by me for Elaunchers.com. You can read this formula as close to following the formula as humanly possible. You want to print your shock and awe and also want to publish the shock and awe online on your website for people to instant access.
You want to make sure that whether you are doing this yourself, or having us do it for you – that you preserve the Formula.
Here's the big lesson from Dan.
Disclose prices. Disclose deliverables. Define rules of engagement.
Let the prospect qualify and disqualify themselves so they are ready to take the next step when they talk to you. The shock and awe is not there to impress them, it is there to establish trust, rapport, deliver information and get you closer to a deal. Let the paper do what people won't do!
My shock and awe has the following component:
The Pocket Folder:
Notice it says 'Flight Plan'. We are going with the whole 'flight theme' with Parthiv as an info-pilot. Inside pages of the pocket folder has two core things: SWOT analysis and Infusionsoft Perfect Customer Life Cycle. Everything revolves around these two things.
Even if you have other components like a big box with other three dimensional props, the Pocket folder, organized as displayed here is crafted with the choreography. In this document I will describe what I place where in the pocket folder and why. We also use the shock and awe in conjunction with our Chocolate Marketing Automation System to 'sweeten the pot'.