Here's something Ryan Deiss told me to do first!
Ryan said: "Help the client identify ONE THING THAT MATTERS MOST and work on that"
If we can figure out who you are, who you want to serve, how they like to be pleased and what value you actually bring to your clients, we can figure out what is the ONE THING you should do FIRST.
Start with Digital Marketer's 73 Point Business Building Checklist. This check list has 73 things you can do to accelerate growth in your business. This list is broken into THREE categories.
Get More Customers
Get Them To Spend More
Increase Buying Frequency
On our initial call, we will go over this list and we will find out what you are currently doing, what you could/should be doing, what is working and what it not quite working. If you want a sneak peak at where we're doing and the methodology we use to help businesses just like yours grow, please check out this article.
http://www.digitalmarketer.com/customer-value-optimization
The two page marketing plan will require about twelve hours of work and it will take a few days to complete. Your time commitment is about four hours of meeting time plus answering some questions via email or phone as our team is developing your plan.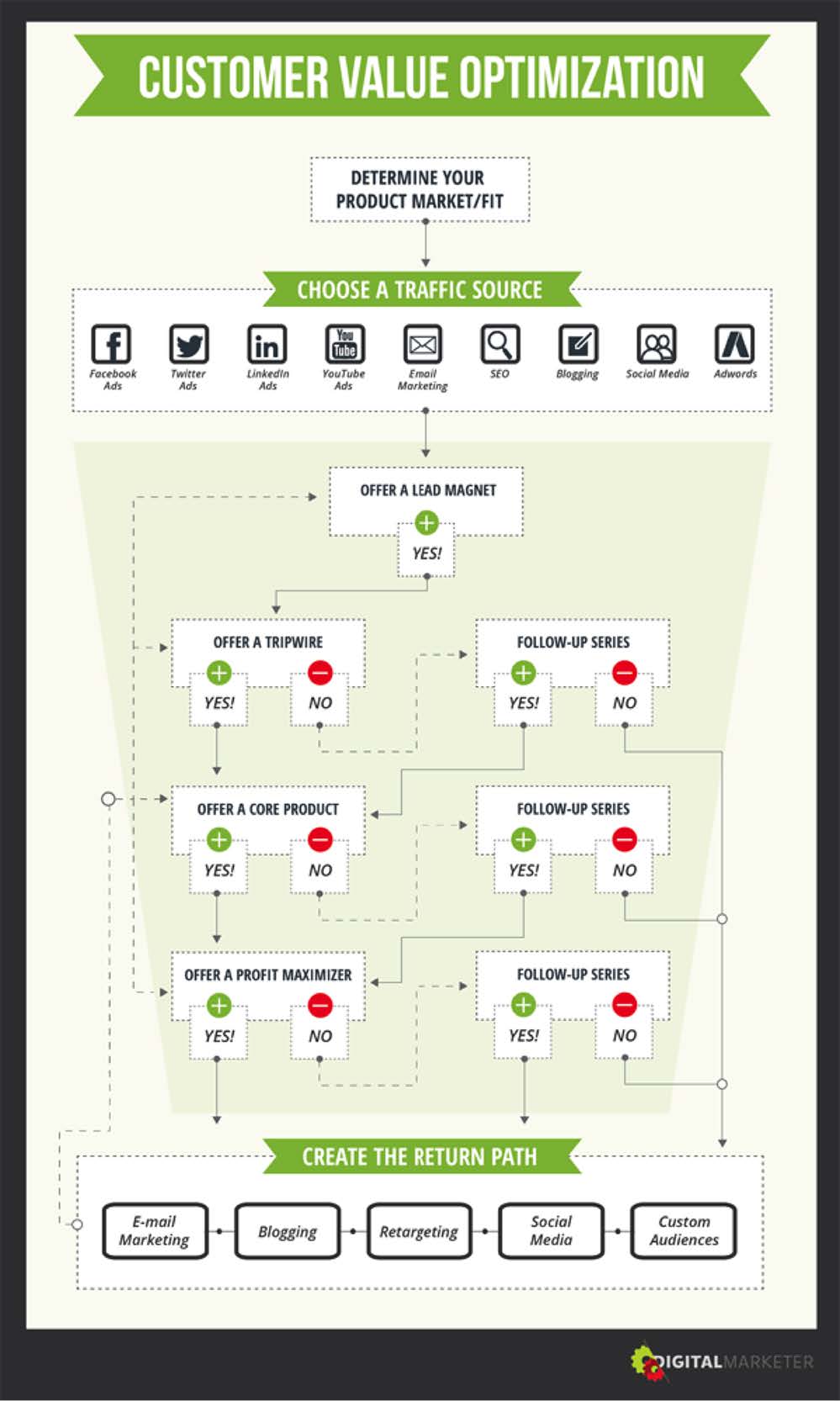 The first step in the process is the 'discovery session' where we will get together and talk. It's a fun and painless fact-finding exercise and I think you will enjoy it. An experienced direct response marketing specialist will take care of getting your discovery session scheduled and walk you through the questions. Then he/she will package everything up and get it to me so I can start putting together your 2 page marketing plan.
As a part of the process, I will work with you to draw up your Ideal Customer Avatar Diagram, your 'before & after grid' and finally, your two page marketing plan.
The Customer Value Optimization process will help me develop the FIVE CORE
ELEMENTS of your Conversion Platform:
Opt In (Bait — Offer)
Trip Wire
Core Offer
Profit Maximizer
Return Path
Remember, when we are done, this plan should be the roadmap for growing your business and helping you achieve your goals.