You and I spend money on marketing and advertising because we want to connect with our customers, clients, and patients in a way that has them eager to do business with us.
You want your prospects to see you as an authority in your market or industry—a trusted source that has them driving past your competitors and going out of their way to do business with you.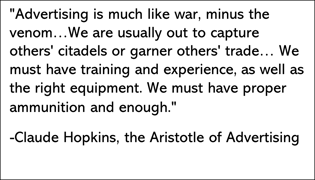 There are a couple of ways you can do this.
Be in business for forty years or so, and spend that time developing a reputation with your community through various outreach efforts. Sponsor little league teams, join Rotary Clubs, guest lecture at the local community college, and continuously pump money into ad campaigns that let people know you're in business.
OR
Take a shortcut. Develop and deliver a well-crafted message with killer content that establishes you as the undisputed authority in your industry by answering your prospect's questions, addressing their concerns, and educating them on—not just your product or service—but why your product or service is precisely what they need to fulfill their needs, put their fears to rest, or help them attain what they desire most.
You want your marketing message to pique their curiosity and hold their interest by using the "5W-1H" formula:

Who are you advertising to? You must know your audience or target market. What do they need, want, fear, or desire? What keeps them up at night? What do they long for, strive for, or want more than anything else?
What does your product or service do for them? How does what you offer meet your prospect's needs or fulfill their desires? How will your product or service let them rest easy or have them excitedly telling their friends and family how glad they are that they said YES to doing business with you?
Why is what you offer superior to alternative products or services? How does your product or service stand above what your competitors offer? This is where you highlight your expertise, experience, the material, quality, and craftsmanship of your product, or how your service is unmatched.
How can you prove your case? Social proof works wonders. Testimonials and glowing reviews work best. Have a satisfied customer or client tell their friends, family, and the world how glad they are that they chose you.
Where should you advertise to reach prime prospects? Don't waste your marketing efforts on the wrong audience. You can have golf clubs guaranteed to improve your drive and short game, but if you run your advertisements in Teen Choice Magazines, no one will care or buy, and your message and money will be wasted. Make sure your message is reaching your target market.
When is the best time to reach them? Make your message timely and relevant; center it around current events or news stories that resonate with your audience. Also, be aware of how consumer habits are affected by market trends, politics, and the economy. Craft your message in a way that acknowledges how your prospects are affected by the world beyond.
The 5W-1H formula helps you to think outside the traditional marketing box, helps you to identify who your message is for, and the critical elements needed to establish yourself as an authority and ensure your message reaches your ideal prospects when they need it most.
If you want to ensure you're seen as the go-to authority in your industry, I can help. Please call or text me at 301-873-5791 or go to www.elaunchers.com to book an appointment.
Over the past few years, our customers who've said yes to eLaunchers have experienced their best years yet. Yes, even after COVID. Yes, even with constant threats of higher and higher inflation.
No matter the economic layout, predictable growth is easier than you may think possible. Call me, and let's discuss implementing the business growth strategy that can generate a steady stream of customers, clients, or patients eager to do business with you.