But I'm a dentist – not a writer!
Does the thought of writing a story about you or your practice give you the willies? You're not alone! The good news is, there are a few simple techniques you can follow to get your creative juices flowing.
One of the most popular methods of building rapport with your audience is called "The Hero's Journey". If you've listened to inspirational speakers within the last 10 years, there is an excellent chance their speech is based on this formula.
The Hero's Journey
In essence, there are three stages: the journey, the initiation and the return. Within these stages you are letting your audience in on how you began your journey, how you stumbled and maybe even failed. Then you rose again and succeeded through the wisdom of your struggles. Essentially you are telling your audience about a difficult time in your life and how you overcame the obstacles. Audiences can more easily relate to a hero who has failed then one who only succeeds. A hero who has failed, is much more plausible and likeable than the guy who is always succeeding.
Funny Moments
Funny moments that altered your perspective are also a great source of inspiration and go a long way in building a connection with your followers. A quick Facebook search on dentists brought up "The Singing Dentist". The Singing Dentist is a dentist who likes to rap and one day was rapping about root canals, someone videoed him and posted it on his Facebook page. Now that's his brand.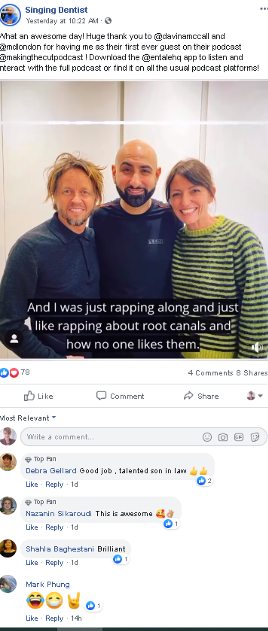 A Humanitarian Cause
My dentist is movie star handsome, super nice, and always gives me a completely pain free experience, but that's not what sold me on him. He also happens to spend a month every year volunteering with Smiles for Latin America and takes his oldest daughter with him. He's movie star handsome, he has a heart of gold and he's educating his kids to contribute to the betterment of humanity. Seriously – what's not to love about this guy?! Will I continue to support him and his practice? You bet I will! His humanitarianism is close to my heart and in supporting him, I feel as if I am supporting his cause.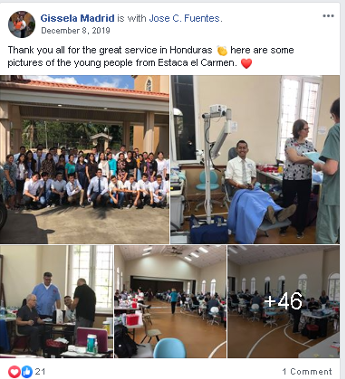 Share
Share events in your practice (birthdays, office parties) or things that light you up about your practice. Doing this brings people into your inner circle and makes them feel like a part of your community. Pristine Orthodontics does an excellent job of this in the below Facebook post.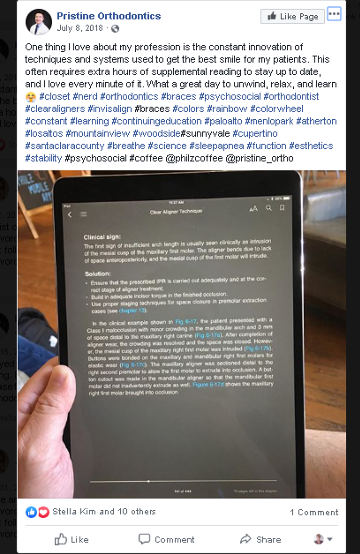 Sharing doesn't always have to be words. Consider showing instead of telling. Create a captivating video, an info-graphic, a beautiful visual with a caption, or a Facebook live video. These methods can effectively convey your message in a few seconds with very few words.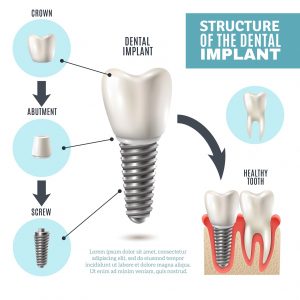 Track results
Once you've started posting, you will see what topics resonate with your audience and can use those areas as a jumping-off point to get you started.
These five techniques give you a few directions to begin your journey of attracting and connecting followers to you and your practice through your genuine story.