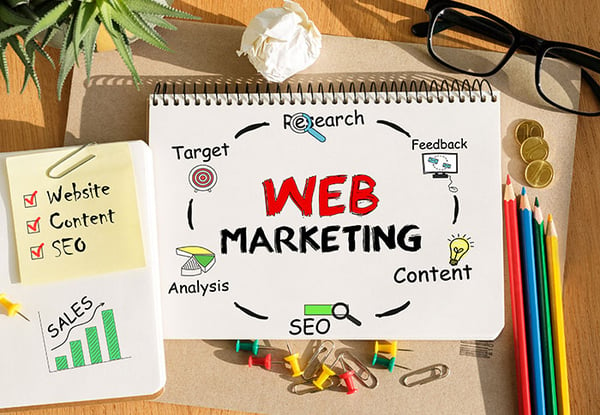 The Ultimate Web Traffic Platform is made up of FOUR key elements.
Ultimate Marketing Practice Dashboard
Ultimate Data Architecture Platform
Ultimate Customer Value Optimization
Ultimate Decision Support System
Based on your business needs, we will recommend appropriate dashboard technologies and set up such dashboards so you can monitor your marketing activities and measure results. These dashboards are used by the CEO, the CMO and the agency to identify what is working and what not working. We use sophisticated tools, techniques and technologies for analytics and reporting including Databox.com for business intelligence, Truconversion for heatmaps and web session recordings and hubspot analytics to measure and monitor online marketing activities.
These tools integrate with the 'usual' data sources like Google, Facebook, Infusionsoft, Quickbooks and possibly your practice management system. Depending on your company's unique data visualization needs the appropriate technology will be recommended, implemented and customized for you.
Your data driven decision process depends on a solid foundation of key data architecture concepts. Most businesses do this wrong, therefore, they have raw data in their data warehouse that is not easy to analyze. The key is to capture, catalog, categorize and visualize data trends in real time to make smart decisions.
No business is too small to have intelligent data architecture platform, but for larger businesses the data leakage is amplified and problems become far more 'lucrative to solve'. For example, when working for a company with $42M in revenue with goals to grow to $100M in six years, we found about 12M on 'death row' that can be harvested with the right customer retention techniques. If you harvest $12M of your own money from existing customers, the growth goal is easier to reach because you are not losing money on the other end. It's like plugging a hole in your boat!
There are seven key elements of Ultimate Data Architecture Platform
Naming Systems Standardization
File Naming Convention
Google and Facebook Pixel Setup
UTM (Urchin Tracking Module)
Lead Source Setup
Data Visualization Dashboard
Heat Map Analysis
The business plan building tool Live Plan allows you to articulate your business plan based on your history (who you are, where you came from), your current state (where you are today) and your goal state (where do you want to be in 1 year, 3 years and 5 years).
I am a fan of Live Plan because in addition to the qualitative narration of business plan, it has a very simple financial matrices workflow that any business owner can navigate without assistance of a trained CFO. The quantitative platform of Live Plan allows you to map out up to 50 lines of income and up to 100 lines of expenses, tabulated in a monthly grid.
Once you create your 12 months, 3 years and 5 years projections, you can compare your projections to the industry benchmark so your expectations are not out of line.
The system pulls the financial data from your Quickbooks or Xero, or you can enter the data in the dashboard once a month to keep track of your numbers and do basic business math.
Once your basic decision support framework is in place, you can do more sophisticated decision making based on data.
List Cleansing and Forensic Data Analysis
If you have a house list of customers and prospects, you should have a written list hygiene protocol. Most businesses over $1M and under $10M suffer from significant data decay because they do not have processes in place to keep their customer/prospect database clean and updated with 'now current' information.
We ask you to export last couple of millions of dollars worth of transactions and reading the data gives us insights on RFM (Recency, Frequency, Monetary Value Of Relationship and Propensity to Refer). Based on this analysis records on your list can be tagged for participation in special marketing programs. This is called 'customer value matrix'.
Data Modeling Recommendations
Chances are, your next customer will look like your last customer. We can take your current customer base or sub-set of your customer base and run it through data cloning and modeling. If B to B we would bump your list against D&B or if B to C we would bump your list against Experian or Acxiom to find match, append 1100 to 1500 columns of demographics and psycho-graphic data to spot trends and identify common traits among your customers. We use these trends and common traits to help you identify prospects that match and mirror your current customers.
This technique does not always work. If you have gone through massive changes in your business model or your target market, cloning old data will actually send you in the wrong direction. This technique is recommended for companies who have posted steady growth over last two to three years and currently do not face fiscal distress.
List Research and Market Segmentation
Once your business plan is in place and you can articulate who you are, who you are for and how you want to please them, we can tap in to various databases to identify pools of prospects for highly targeted direct response marketing.
Developing a Marketing Plan & Marketing Mix
We have workbooks and tools in place to help you put together a 12 day, 12 week, 12 month and 12 quarter marketing plan and develop your marketing mix to suite your marketing budget, your growth goals and your risk tolerance.
Once you have a written business plan and you know where you are and where you want to go and you have a good idea as to who you want to go after and what you are going to say when you meet them, you are ready to build your marketing plan and identify your perfect marketing mix.
If you approach the process of developing your marketing plan and marketing mix systematically, you will avoid the trap of 'shiny object syndrome' and save yourself from Random Acts of Marketing.
Creating the Perfect Marketing Calendar
Once the marketing plan and marketing mix is developed, you want to develop an annual marketing calendar that breaks up the year in to six to ten projects. The big idea is to start couple of projects every quarter and end couple of projects every quarter for every million dollars you have in revenue.