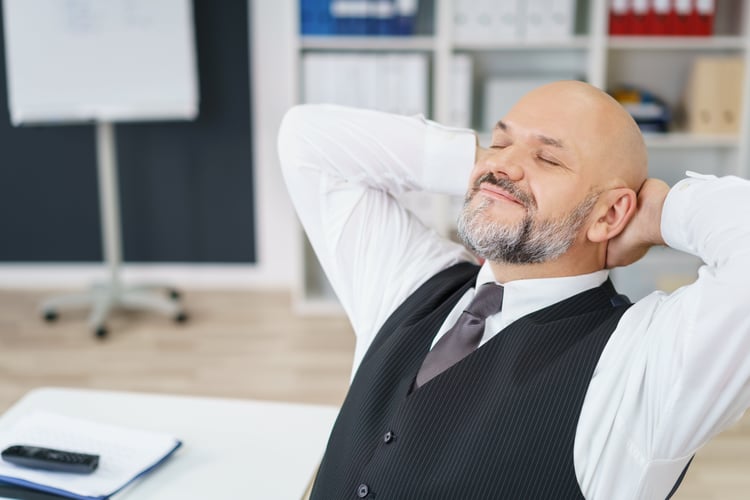 In order to look as relaxed as the man in the picture above, you might want to try implementing a referral system. A referral strategy is any system you can put in place to generate new leads through existing customers. The ideal way to do this is to create a system that runs itself! Here are some ideas for simple strategies you can begin to implement into your business immediately.
Just Ask
This may seem simple and obvious, but it's true. Be open with your customers and associates, and simply ask them if they can refer any of their friends or associates to you. Make it part of doing business with you, and your customers will grow to expect the question. Or, let them know in advance that you'll be asking at a later date.
Remember that this can include potential customers – even if they don't buy from you. The reason they chose not to purchase may have nothing to do with your business; any person who has begun to or actually done business with you can refer to you another person.
Offer Incentives
When you speak to your customers, when you ask them for something, you typically try to answer the question "what's in it for me?" before they ask it. The same is true when you ask your customers for a referral. Incentive-based referral strategies work wonders, and can easily be implemented as part of a customer loyalty program, or as part of your existing customer relations systems.
Consider offering customers who successfully refer clients to you discounts on products, free products or services, or gifts. Offer incentives relative to the number of referrals, or the success rate of each referral.
This can have a spin off effect, as your referral customers may become motivated to continue the referral chain. They too will be interested in the incentives you have provided, and tell their friends about your business.
Be Proactive
The only way your referral program will work is if you put some effort into it, and maintain some level of ongoing effort. Here are some ideas:
· Put a referral card or coupon in every shopping bag that leaves your store
· Promote gift certificates during peak seasons
· Offer free information seminars to existing customers, and ask them to bring a friend
· Host a closed-door sale for your top 20 customers and their friends
Provide Great Customer Service
An easy way to encourage referral business is to treat every potential customer with exemplary customer service. Since the art of customer service is lost is many communities, people are often impressed by simple added touches and conveniences. That alone will encourage them to refer your business to their network.
Stay in Touch
Make sure you are staying in touch with all of your potential and converted customers. Through newsletters, direct mail, or the Internet, keep your business name at the top of the minds, ahead of the competition.
Even if they have already purchased from you, and may not need to purchase for some time, a newsletter or email can be a simple reminder that your business is out there. If someone in their network is looking for the product or service, it will be more likely that your customer will refer your business over the competition.
If this sounds like a system you would be interested in implementing, click below to get our expert opinion on the right way to do that for you and your company.