Are you a physician, dentist, info-marketer or financial advisor? Do you have a business plan?
Most who reach out to me for business planning help don't have any type of plan in place.
The tool we use at eLaunchers is called LivePlan. I'll share how you can use this valuable business planning tool in your business.
Physicians, dentists, info-marketers and financial advisors need good business planning and access to real-time financial information.
Whether your goal is bringing on new clients or patients, or expanding to new locations, good business planning is about management, accountability, tracking performance metrics, and improving over time.
Prepare for the future
With LivePlan, you can create a "living" financial plan for your organization on a three to five-year basis, with the option to include up to three years of monthly details.
This means that you can use it as a real-time financial dashboard (more on that later), so you're never left wondering where you stand. If you use QuickBooks Online or Xero as your accounting solution, you can connect that LivePlan, so when you're looking at your budget and cash flow, you can seamlessly compare actuals with what you projected without any data entry.
Because you can track your financials in real time and generate key financial statements, it's easier to stay on top of opportunities and challenges. For instance, if your organization has a surplus of funds because you didn't spend some of the money you budgeted for a particular initiative, it might be appropriate to funnel it back into program costs and administration. Likewise, you can use the LivePlan business Dashboard to help you quickly identify shortfalls well before they balloon into a budget crisis.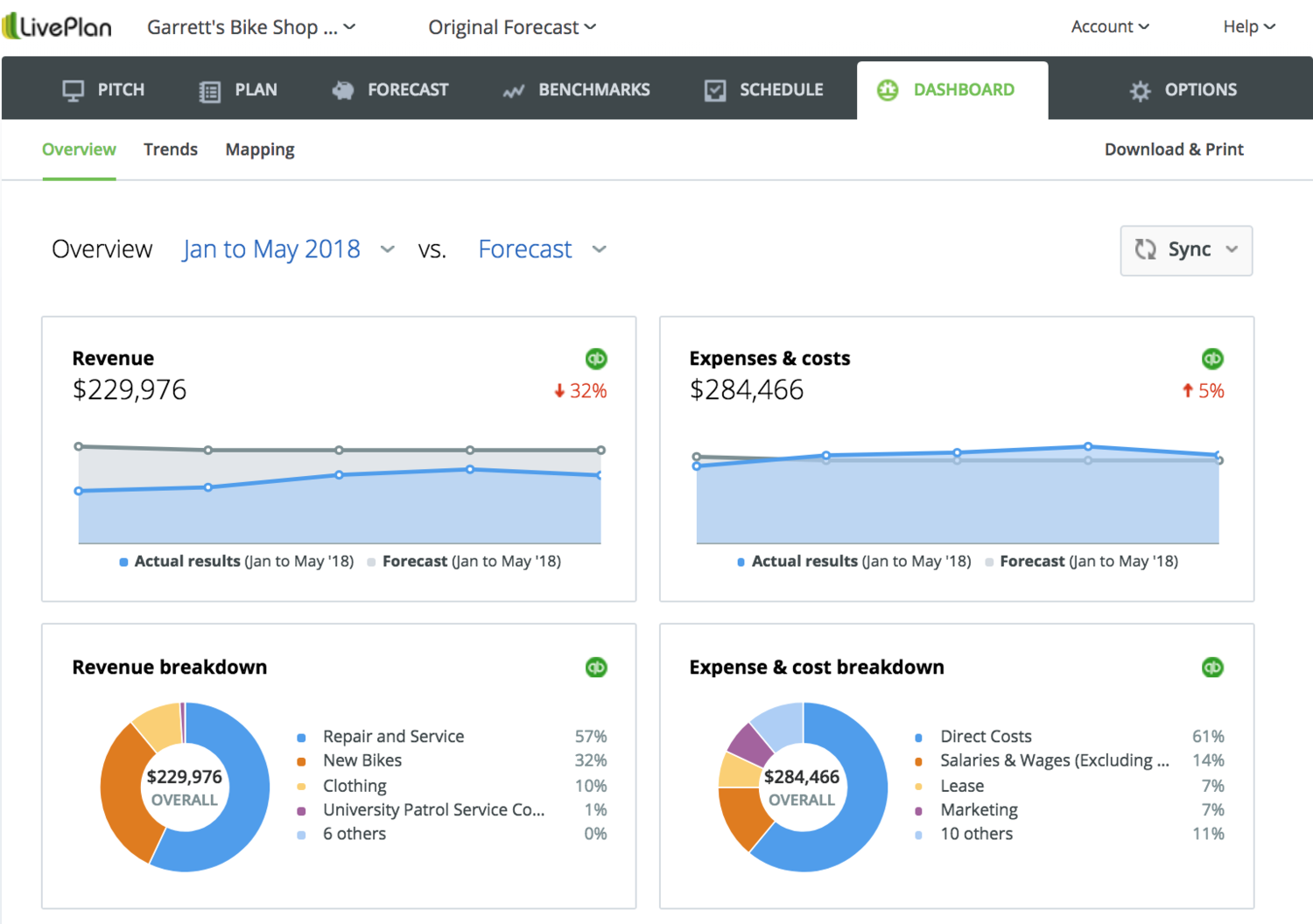 Your organization has salaries to pay and overhead to cover to keep the doors open and provide services. Planning for the basics and then setting your sights on future achievements will help ensure the sustainability of your venture. LivePlan lets you keep track of it all in one place, so you can keep doing what you love well into the future.
In addition, LivePlan allows you to:
1. Edit the LivePlan business plan outline so that it includes the chapters, sections, and titles that are most applicable to your organization.
You can also remove an unwanted section or add an entirely new one.
Want to change or remove the word "Company" from the plan outline? Go right ahead, just click edit.
Here's a visual:

You can see the outline on the left hand side.
2. Create a polished slide deck for your advisors and/or investors.
LivePlan's Pitch feature makes it easy to put together a presentation-ready slide deck on your organization and programs, your financials, and your leadership team or partners.
When you're finished creating it, export it to a file that you can open in PowerPoint or Keynote. Or, you can publish it as a private web page, so it's on hand whenever you need to give a presentation.
3. Export your plan as a PDF or Word document for easy sharing
LivePlan makes it easy to add "partners" that could benefit from login access to your plan. But for the rest of your team, or for certain advisors, you can also download and share your plan as a Word doc or a PDF.
Using the Dashboard for financial tracking
The LivePlan financial Dashboard is a great tool for tracking for financial goals as they relate to your practice, and comparing them against the reality of how you're doing.
The Dashboard is most useful when you sync it with your QuickBooks Online or Xero accounting software, though it is possible to add that data manually.
It has many practical applications for dentists, physicians, attorneys and financial advisors, not the least of which is a clear visual on where your income is coming from vs what you're spending the most money on. If you can see how things are shaking out financially, you can easily and quickly make adjustments as you go. This type of data is critical to dentists, physicians, attorneys and financial advisors.
In summary, LivePlan can help you streamline your strategic planning and financial management. It makes it easier to provide you and your advisors with the right level of transparency and easy to read and understand financial documents. It's possible to track your financials and generate reports manually, but LivePlan can help you free some of your time and focus, so that you're prepared to respond when you have challenges or see opportunities to expand your reach.
I'm happy to share how I use LivePlan in my business and how you can use it in yours. Click below to grab a spot on my calendar.