What Got You Here, Won't get you THERE!
Let us work together! first we make a plan
and then work the plan

!

I learned this from the masters at Infusionsoft Elite Forum. They taught me that there are seven stages of a company's life. You go from Stage 1 ($0 to $100K) to Stage 2 ($100K to $300K), Stage 2 to Stage 3 ($300K to $1M), Stage 3 to Stage 4 ($1M to $3M), Stage 4 to Stage 5 ($3M to $10M), Stage 6 ($10M to $20M) and Stage 7. I joined Infusonsoft Elite Forum right before going from Stage 3 to Stage 4. During the delicate times of a stage transition my life was chaotic.

It was evident that yesteryear's victories and processes were now irrelevant. What used to work was no longer working. I was huffing and puffing, dropping balls, disappointing clients, losing time, data, money and valuable human resources. Life was stressful. It was then that I discovered the Elite Forum Everest and Game Plan process. Dipali and I put in close to 150 hours in to implementing the Elite Forum Principles. It was a life altering, transformational make over. Infusionsoft Elite Forum gave us the necessary business structure to stabilize the company and take it to the next level.

I have now dedicated my life to helping stage 3 and stage 4 companies go to the next stage and be their information architect through this journey. With their permission, I brought Elite Forum's Everest and Game Plan to eLaunchers and integrated them in my process. When you come in for a day (and a half) of your consultation, we start with a meta-cognitive mind-map of concepts and strategies that are relevant to your business. Then, we do an EIGHT paradigm SWOT analysis. (Normal SWOT has 4 paradigms). Based on these two assets we develop and/or articulate your revenue model, ascension plan, retention plan and 'money rituals'.

After that we build out your Everest diagram and populate your game plan. Once we know what we need to do and when and in what chronology, we develop a tactical plan for your web, data, graphics and technology infrastructure and once we have all of this in place we put together your Base Camp and populate it with several hundred tasks that can be assigned to various role players. Once all of this is done, we record a quick 2-3 minute video for my 'wall of testimonials' and it is time to head back to airport. Beyond initial consultation, for the next 36 months we will hold your quarterly, monthly and annual planning meetings.

We will meet in per-scheduled video conference to measure progress, review opportunities, threats and celebrate victories. Among other things, you will walk out of my office with an Everest diagram wall chart for YOUR organization like the one pictured below.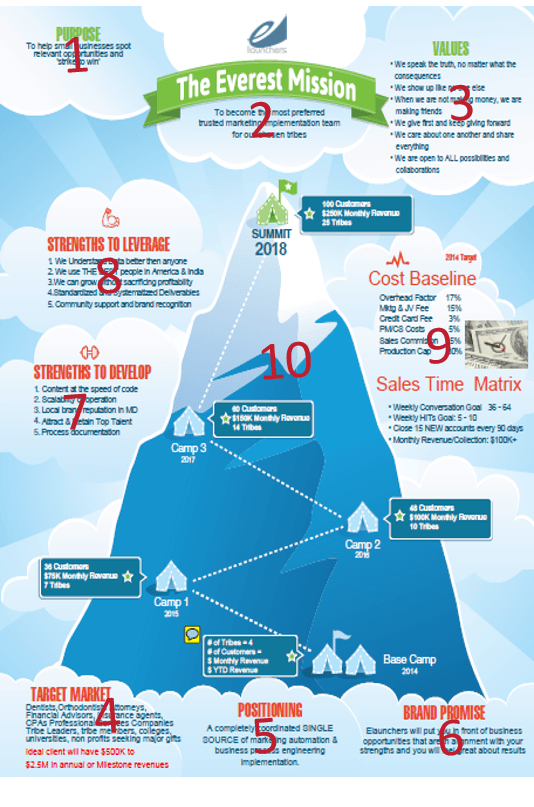 Naturally, there is a lot more to Infusionsoft Elite Forum beyond just Everest and Game Plan. It is a comprehensive business administration framework and a management protocol for a growing business. If you want to learn more about how Elite Forum can help, we will be happy to refer you to Elite Forum. eLaunchers.com is not a re seller or implementer of Elite Forum.;
This may not be right for you. That's OK!
When I am not making money, I am making friends. I need them both.
If my private client program is not appropriate for you, perhaps you can join my study group and we can share notes! That program is FREE for qualified SERIOUS students of direct response marketing.