Adapt & Prosper...
The Corona Pandemic Has Changed The Way YOUR PROSPECTS Buy. This letter – which is yours to download and read right now – reveals what you MUST KNOW to PROSPER and GROW YOUR BUSINESS – while others without this information – struggle and fail.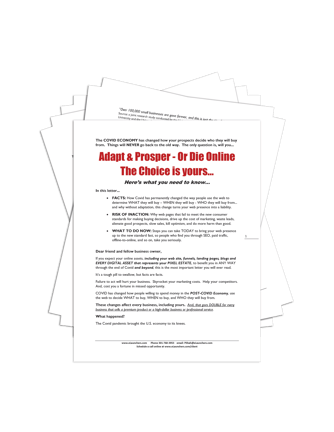 Just look at what you'll discover in this short 20 page letter...
How the COVID Pandemic forever changed how people use the web to determine WHAT they buy. WHEN they buy. WHO they will buy from.

Why not adapting to these changes will torpedo your income, cost you a FORTUNE in lost business, and may put you out of business.

Why the damage caused by the COVID pandemic so far, is just the tip of the iceberg compared to what's coming.

What you must KNOW and DO to not fall victim to the COVID economy, and to prosper in the coming months and years.

How the 80/20 rule applies to your data, and how applying this in prospect selection may DOUBLE your sales revenue and LOWER marketing cost.

The #1 mistake virtually ALL businesses make in their marketing, and why not correcting that mistake and removing that handicap now, in the COVID economy, could destroy your business.

Why most SEO and paid traffic is a HUGE waste of money, and how to turn that around and make SEO and paid traffic a MASSIVE profit center.

How to distinguish yourself from all competitors and get your prospects excited about doing business with YOU. You'll be amazed at how simple, and how effective this process is!
How to get good prospects ENGAGED in your content, RIVETED to your marketing messages and excited to take the next step. If you sell a high dollar product or service, this could easily bring you 7-figures a year in new revenue.

And a great deal more...
Take advantage of this opportunity!
"Hands down, this is the most valuable 20 pages of marketing insight I have seen in years. If you want to prosper in the 'COVID economy', I strongly suggest you read every word of this letter carefully, accept the gift offered near the end of the letter, and take the appropriate action." Dan S. Kennedy, Speaker, Author, Consultant
In days past, the "New Economy" was used as a catch-all phrase to jolt people to action now, rather than accepting the status quo. What we face today really is a NEW ECONOMY. The government response to COVID has completely decimated entire industries, while others have thrived. Which side of this great wealth transfer will you be on? I have worked closely with Parthiv and eLaunchers for the past 5 years, and I can tell you the smartest thing you could do right now, if you are not 100% certain about the future of your business, is to read this letter and accept the gift offered in it. Dr. Carlo Biasucci, Dentist & Dental Practice Growth Expert
"After reading this letter several times, I can honestly say I have never been more excited about growing my business. If I had paid Jay Abraham $25,000 to help me recover from the loss of income caused by COVID, and he delivered EXACTLY what I received when I accepted the free offer Parthiv Shah makes in this letter, I would have been DELIGHTED with the consult. This letter is that valuable." Dr. Andrew Gorecki, Physical Therapy

"As a lifelong student of marketing, who routinely does multiple 7-figures treating patients for back, hip and knee pain in my clinic in rural Pennsylvania, I have three things to say about Parthiv Shah's Adapt or Die letter; 1) This is actionable information you can use immediately and may benefit from the same day. 2) The free strategy sessions, which I have attended, are worth at least $10,000, and if you apply the information, may be worth multiple six figures over a few months. And, 3) If you sell an expensive product or service, applying the information you get in this letter and in the free strategy sessions, could easily add over a million dollars a year to your annual sales. Dr. Ken Vinton, Pain Management
Please Click Here to download the letter and print it out.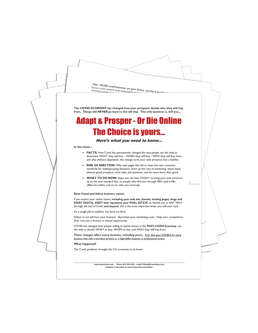 Please read every word carefully. Then, follow the instructions at the end of the letter. And, with absolutely no cost, charge or obligation of any kind, you will receive a gift valued at $2500. And truth be known, may bring you TEN TIMES that amount in increased sales revenue over a few short weeks.


Oh yes, the gift box. During our appointment, I will take time to learn more about your business, your interests and if you like to read books, I will ship you a box of books & resources that can help you grow your business. My gift box can also be used as a framework for creating a shock and awe package for YOUR business. So please read the letter, book an appointment and let's get started for FREE.
When you book your first call with me, you become part of eLaunchers.com family! So, Welcome HOME!


Parthiv Shah, President, eLaunchers.com
Mobile: 301.873.5791 (Yes, you CAN text me. No voice mails please).
WHEN YOUR LIST IS WRONG, NOTHING ELSE MATTERS


Parthiv Shah
President • eLaunchers.com
pshah@elaunchers.com 301.760.3953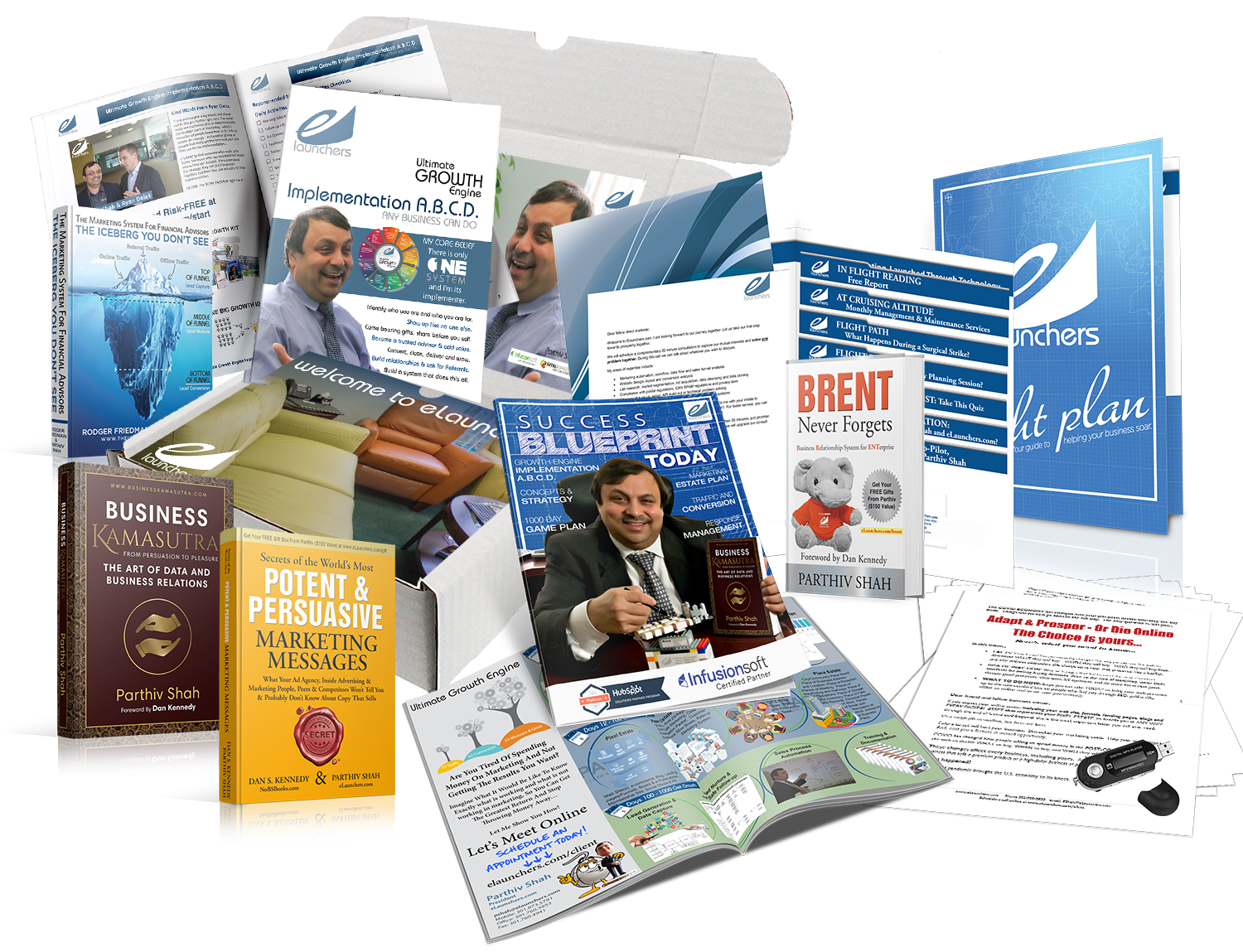 At the end of our appointments, I will ship you this gift box with books, work sheets and an example Shock and Awe package along with some sales letters that you can study as examples so you create your own shock and awe package.