What if we get together and do some work ON your business
BEFORE you invest any more money on marketing ANYWHERE?


Let's Meet Online and Map Out A Plan
THANK YOU for clicking the 'Your Success Blueprint' button. As promised, I WILL work with you on your business in a 60 to 90 minute session and help you map out your journey from your current state to your goal state. This 1/2 day session is a composite of principles used by direct marketers for over 100 years.
To prepare for this session you will download our workbook called eLaunchers Information-First Marketing Playbook. This Playbook is a combination of the four systems above. It contains a collection of questions and checklists designed to identify your past, current and future roadmap with precision accuracy. I will use the Playbook to take notes during our session. At the end of our meeting, I will email you the completed Playbook as a PDF document.
As Ryan Deiss says in the video above, I understand strategies, and I understand what it takes to implement a strategy. There's a reason thousands of direct marketers and entrepreneurs from all over the world call me as "Mr. Implementation." In one 1/2 day session (two 2 hour calls with a break in the middle) I review the last 1000 days of you business, your current state, your goal state, your desired 1000 day journey and win conditions with desired and necessary milestones. Based on what I see and hear, I will recommend a set of steps your organization can take over the next 100 days.
My success blueprint is a 1000 day roadmap that takes you on a journey from planning your concepts and strategies, to designing and building your systems and processes, and finally, effectively executing your campaigns.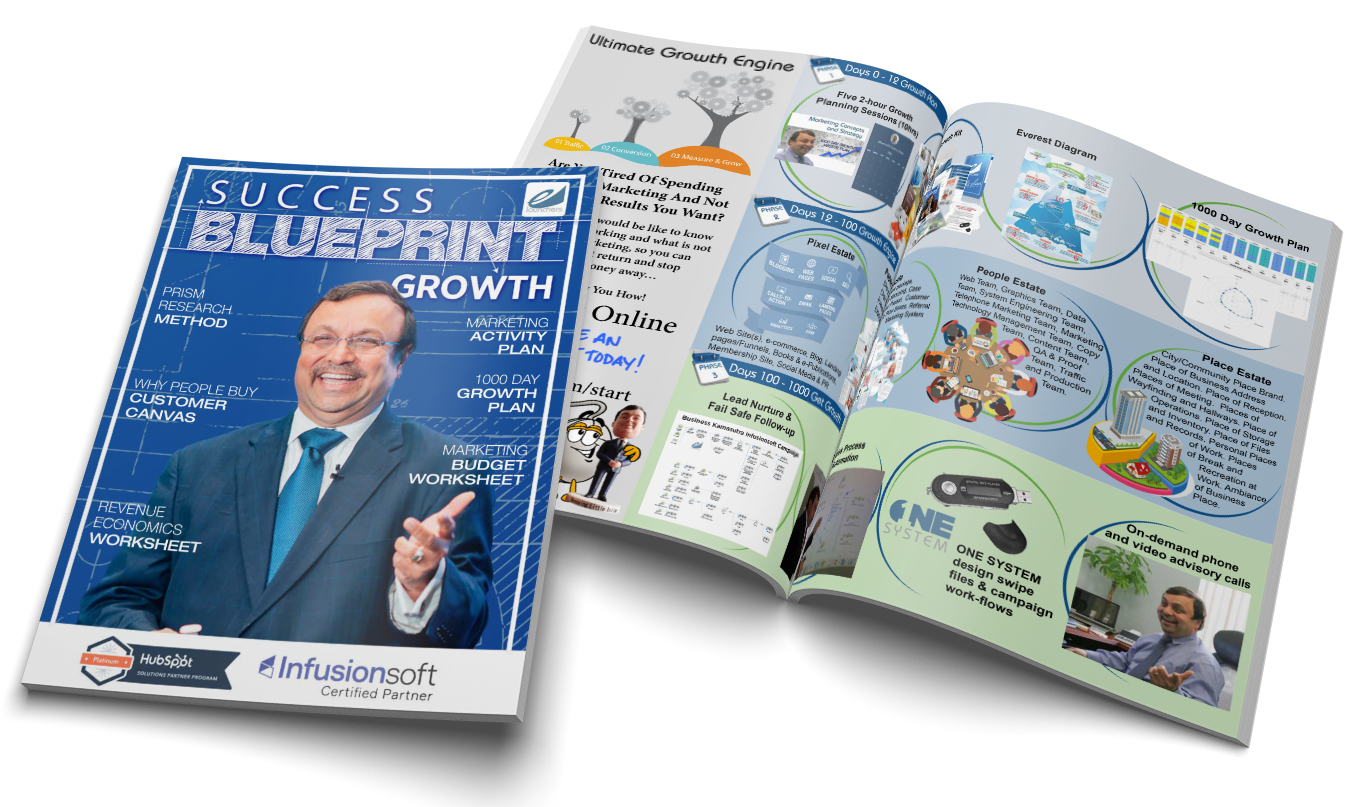 Ready to get started? Let's GROW!
Why am I offering this service to anyone for free? Two reasons: One, when I am not making money, I am making friends and this is a surefire way to make friends. I help you build a better business for you and I am not asking for money. Two, about two-thirds of the people who take me up on this offer either become valuable clients or refers me to someone who becomes a client.
So, what's the catch! Well, there are actually TWO. One, there is a limit to how many of these I can do in a month. I actually have a real 'job'. I have to run this company and to take care of my paying clients. So, I may or may not be able to work with you right away. If I ask you to wait a week or two before we get started, please don't think I am being rude. Two, in our initial discussion (first call) we might realize that we are not made for each other and should part ways. If you feel that way, please let me know... I will not be offended. If I feel that way, I assume I have your permission to share my feelings and close the conversation. If I am unable to work with you for whatever reasons, I will send you a printed copy of the workbook along with a box of other books from me, Dan Kennedy, Russell Martino and others that will help you take this journey at your own pace.