What if we get together and do some work ON your business
BEFORE you invest any more money on marketing ANYWHERE?

If you study Dan Kennedy's Magnetic Marketing, Hubspot's Inbound Marketing Methodology, Infusionsoft's Lifecycle Marketing Planner and Digital Marketer's Customer Value Optimization with Value Journey Canvas (CVO/VJC) you will arrive at the same conclusion . The core concept is the SAME on every platform:
Identify who you are and who you are for.
Show up like no one else.
Come bearing gifts, share before you sell.
Become a trusted advisor & add value.
Convert, close, deliver and wow.
Build relationships & ask for Referrals.
Build a system that does this all.
As Ryan says in the video above, I understand strategies, and I understand what it takes to implement a strategy. In Kennedy circle I am known as Mr. Implementation. I have taken a composite of ALL the systems I have studied and created a comprehensive marketing system that we call eLaunchers Marketing Department In A Box. I will tell you more about this when we meet. Please book a call with me at www.elaunchers.com/client.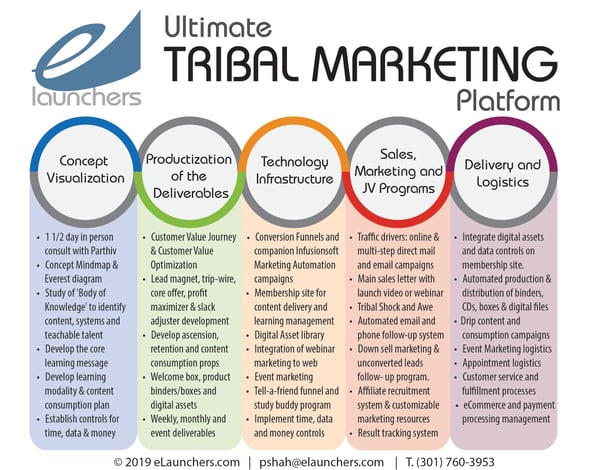 I want to share a workbook which I call 'eLaunchers Information-First Marketing Playbook. This is a cross between the four systems above. This playbook is a collection of questions and check lists designed to help identify your past, current and future roadmap with precision accuracy. You are welcome to download the digital playbook and work through it on your own.
My Special Offer to YOU!
As a very special gift to you, I want to offer to go through this exercise with you. In one 1/2 day session (two 2 hour calls with a break in the middle) I review the last 1000 days of you business, your current state, your goal state, your desired 1000 day journey & win conditions with desired and necessary milestones. Based on what I see and hear I will recommend a set of steps your organization can take over the next 100 days. In an unlikely event where I am unable to do this with you for whatever reasons, I will send you a printed copy of the workbook along with a box of other books from me, Dan Kennedy, Russell Martino and others that will help you take this journey at your own pace.
My success blueprint is a 1000 day roadmap. When we get together, I will help you build your own customized success blueprint. We will be together for 1/2 a day (4 hours). Alternative schedule would be two consecutive days for 2 hours each or four consecutive days for 1 hour each. I need a total of 4 hours with you, uninterrupted, with your and my undivided attention on building your blueprint.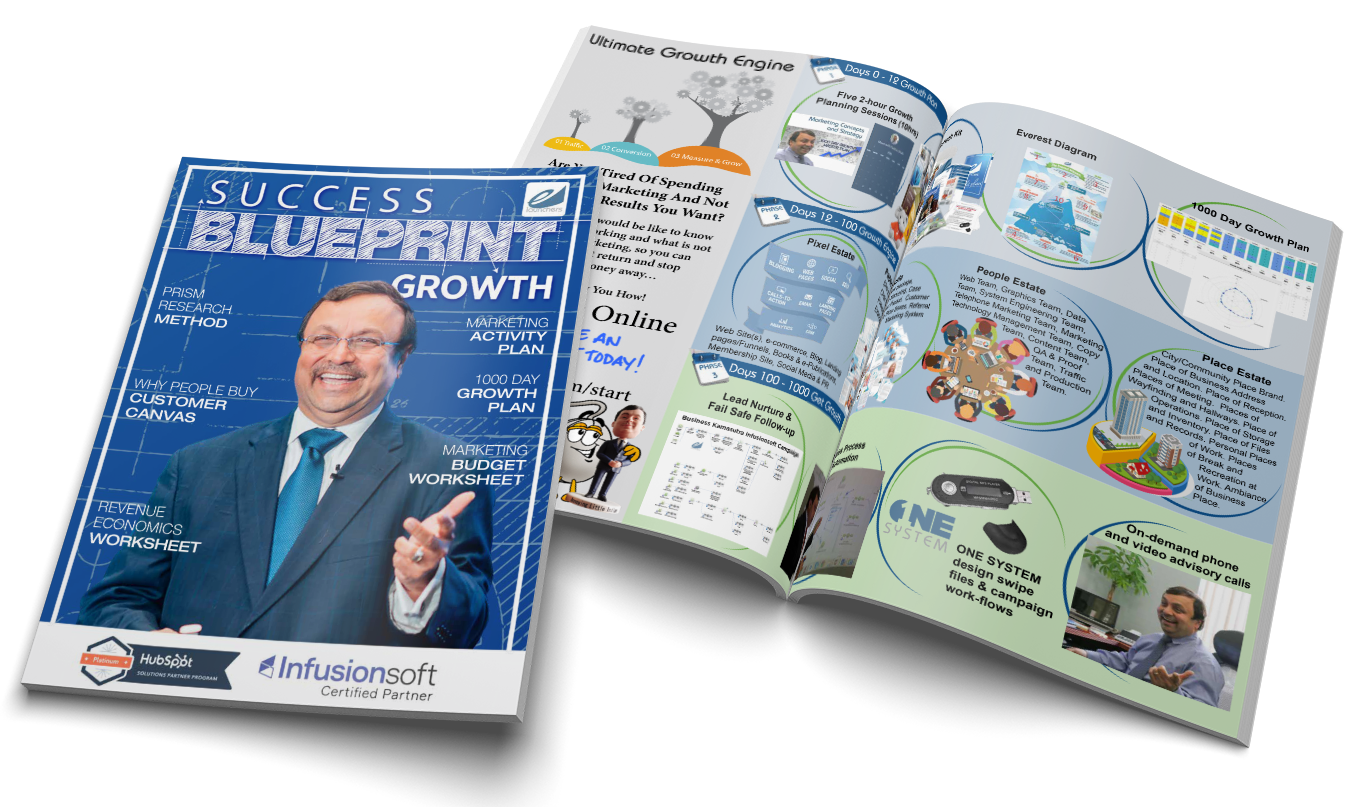 Why would I do this for anyone for free? Two reasons: One, when I am not making money, I am making friends and this is a surefire way to make friends. I come in and help you build a better business for you and I am not asking for money. Two, about two thirds of the people who take me up on this offer either becomes valuable clients or refer me to someone who becomes a client.
So what's the catch! Well, there are actually TWO. One, there is a limit to how many of these I can do in a month. I actually have a real 'job'. I have to run this company and take care of my paying clients. So, I may or may not be able to take you in right away. If I ask you to wait a week or two before we get started, please don't think I am being rude. Two, in our initial discussion we might come to a realization that we are not made for each other and sooner we part ways, better off we all are. If you feel that way, please let me know... I will not be offended. If I feel that way, please give me permission to share my feelings and close the conversation.
To get started, please do the following three things. Book the initial appointment (either 15, 30 or 60 minutes. Whatever works for you). Download the workbook. Fill out the short survey so I can be prepared for our call.
---
Step 3
Please help me prepare for our meeting. Please fill out this form as best as you can. Please do not leave any question blank. If you are unsure or can't answer, just say 'I am not sure' or 'I would rather not say' or 'we can talk about it on the phone'.